This year, LAUNCH CIS demonstrated its achievements in the Central Asian region for the first time by participating in the XX International exhibition Auto Show / Auto parts 2017. It took place on the period from 19 to 22 October, 2017 on the territory of the Atakent Exhibition Center in the largest metropolitan city of the Republic of Kazakhstan Almaty.
All visitors have an opportunity to get acquainted with the latest news of automobile industry, to see new and known technology related with the car industry. LAUNCH CIS also seize the opportunity to show Launch products in the XX International exhibition Auto Show / Auto parts. The visitors who came to Launch booth, which could be divided into 2 large categories - specialists and car owner. They have strong desire to get acquainted with the latest innovations of the Launch Company. Launch brings the new arrivals like X-431 Pro Lite, X-431 AIT, golo Xifi. Besides the new products, the popular X-431 series also is displayed in the exhibition.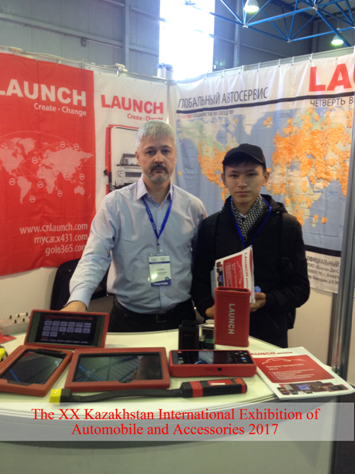 The greatest interest in visitors was caused by the artificial intelligence terminal AIT, small diagnostics CReader series, X-431 HD III Heavy duty, and the scanner X-431 PRO / PRO3 / Pro Lite series.
The exhibition"Autoparts. Autoshow" is a platform for meetings of representatives of the largest companies in the automotive business. Except Launch, other famous companies as Lifan, IKCO, AutoAvangard also attend this exhibition. In four days, about 6,000 people viewed the expositions of more than 70 participating companies from Kazakhstan, Russia, UAE, Poland, China, Germany, Turkey, Iran, Taiwan, Malaysia, Ukraine, Italy, Bulgaria, Korea and other countries.
On October 21th, a seminar presentation of new products was held in the conference hall. The commercial director of LAUNCH-CIS was the organizer. He made a fantastic report and then answered the questions patiently. New products from Launch are demonstrated during the work.
 The exhibition was held jointly with the representation of LAUNCH-CIS and the official distributor in Kazakhstan. X-431 AIT was also caused by the media. The X-431 AIT was published on the October issue of the magazine "Autobusiness". X-431 AIT just takes few minutes to finish the new whole system of vehicles inspection.
The XX Kazakhstan International Exhibition of Automobile and Accessories was successfully completed. LAUNCH-CIS made a great channel to share the latest information with new and old customers.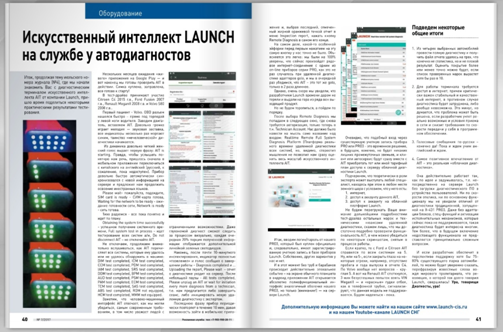 Autobusiness Magazine