With more than 95,000 visitors from 56 countries and some 1,200 exhibitors and brands representing 40 different countries, the international biennial trade show EQUIP AUTO was held its 24th edition from 17, October to 21, October 2017 at Paris Expo Porte de Versailles. It is one of the world's most influential automotive industry technology and services exhibition.
LAUNCH Europe enters into the market of Europe since 2003, gradually equally compete with the local enterprise. Together with our valued partner in France, LAUNCH Europe has participated in EQUIP AUTO 2017, presenting the whole range of garage equipment.
EQUIP AUTO 2017 to establish itself as a leading show for automotive after-sales and services for mobility in France by completely redesigning it and relocating it to the Centre of Paris. This event brings together 100,000 decision makers, repairers, distributors, manufacturers, investors and professionals working in automotive markets. LAUNCH Europe is pleased to participate once again this year to meet existing and potential new customers from all over the world. With concerted and committed work of all members, LAUNCH Europe not only prepared the qualified products but also the poster, the catalog and the operational video.
Launch booth (#C060) was located in Hall 3, presenting a wide range of LAUNCH diagnostic products range from low-end to the high-end like X-431 PRO3, X-431 PRO, the CRP-MOT, Creader Automotive Service Tool Series and maintenance CAT-501S Auto Transmission Fluid and so on. The new diagnosis flagship the X-431 EURO TAB with docking station was also displayed. With the guidance of Launch staff, the new products were well received by the visitors. Beside Launch stand, with the support from Launch Europe, our local France dealer also set up its own stand to show Launch product, and attract a lot of local visitors.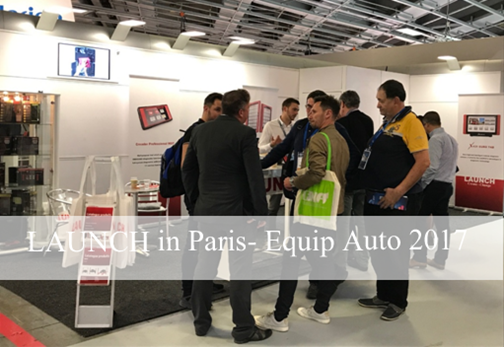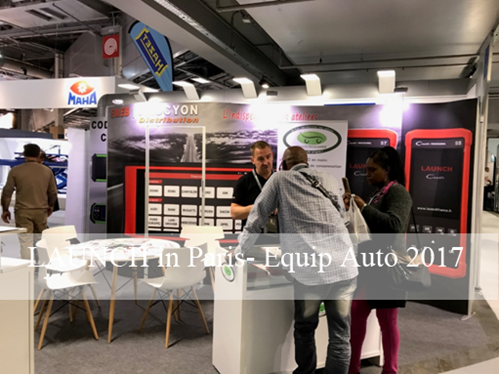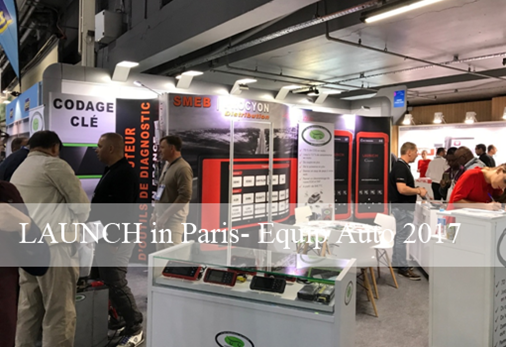 Equip Auto was named by the world's three major auto industry exhibition with APPEX and Automechnika Germany. Over the years, based on the auto diagnostic technology and the advantage of brands, Launch has been leading the auto diagnostic tools industry around the world. Through the Equip Auto, Launch will provide better service to our customers and improve its competition in the world.