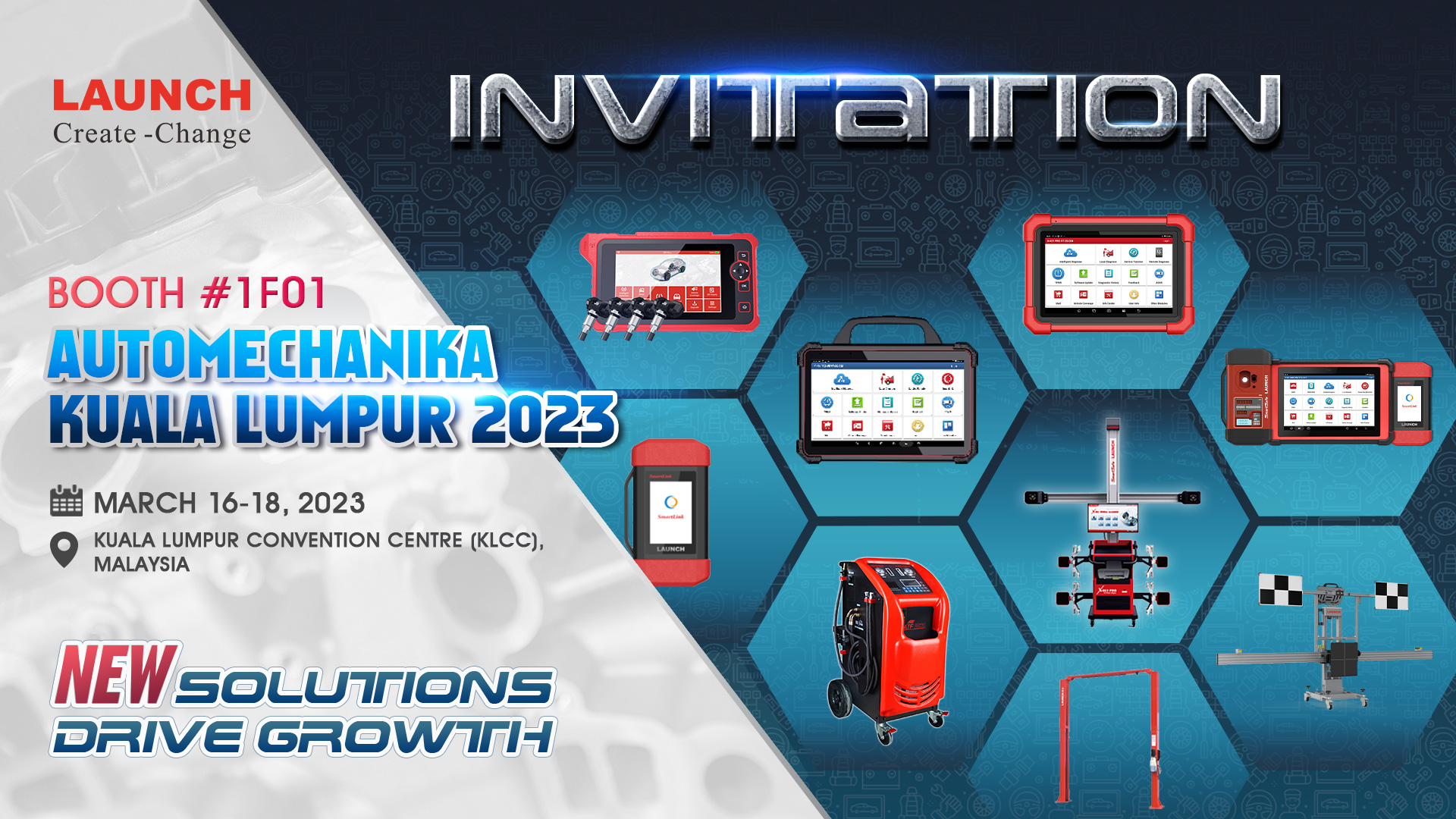 We will present our products and technological innovations at the coming AUTOMECHANIKA KUALA LUMPUR 2023 on March 16-18, 2023 in KLCC, Malaysia. Come to visit our booth #1F01 and experience the automotive aftermarket diagnostic tools with LAUNCH outstanding technology. Stop at our booth and you will see:
·X-431 PAD VII LINK
As one of LAUNCH high-end flagship diagnostic scan tools, the X-431 PAD VII LINK scan tool takes full system vehicle coverage for U.S., Asian and European markets on more than 110+ manufacturers, featuring the ADAS calibration function, 39 service functions, TPMS service and multiple extended modules functions. The technicians enable to diagnose light, medium & heavy-duty vehicles with the SmartLink C. X-431 FIX diagnostic database is available on the X-431 PAD VII LINK scan tool providing detailed wiring diagrams and illustrations to let the technicians complete every repairing job. And the topology mapping graph helps track and fix the issues fast to save time.
·X-431 IMMO PAD
The X-431 IMMO PAD diagnostic scan tool is from LAUNCH Key & IMMO Programmer family for car security and immobilizer systems, featuring all-in-one key programming and all systems OE-level diagnostics. Not only coming with the main features for comprehensive IMMO & key programming service, the X-431 IMMO PAD is also compatible with advanced intelligent diagnostic service including 39 service functions, ADAS calibration, TPMS service and multiple add-on modules applicable, as well as the VCI for SmartLink C supporting CAN/CANFD/DoIP communication protocols and J2534/D-PDU/RP1210 communication standards. It is an ideal tool kit for auto repair shops with IMMO business.
·CRT 711
As a professional TPMS diagnostic tool, the CRT 711 is capable of reading, learning, and programming LAUNCH sensors, as well as sensor ID activation by RF signals. Compatible with all 315MHz and 433MHz sensors, the CRT 711 covers more than 98% of OE-level vehicles, supporting unlimited programming LAUNCH sensor ID services. It also supports 27 advanced service functions and all systems basic diagnostic functions, including reading & clearing DTCs, live data streaming, etc. CANFD and DoIP are supported as well with no need for an extra cable. The CRT 711 TPMS diagnostic tool is best for tire business shops.
…… Want to learn more about LAUNCH products and services? Don't miss out on this show. We look forward to seeing our old and new friends at the show and building our successful long-term partnerships.