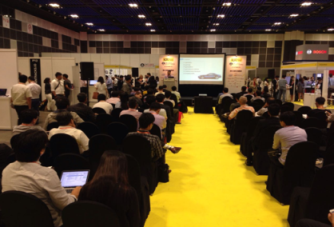 2015 SingaporeThe IoT Show
Sep 22th-23th, the IoT Show was open up at Suntec International Exhibition & Convention Center, Singapore. As one of the most professional shows on Internet of Things in Southeast Asia which aim to promote the Internet of things technology, explore new business model, facilitate new collaborations and generate new ideas, this IoT show brought many exhibitors specializing in the manufacturing & logistics industry, municipal engineering, automotive & transportation and energy industry. LAUNCH golo series products were presented this show, and attracted a large number of eyes.  
LAUNCH booth was at the entrance of exhibition hall, lots of visitors went through and inquiried about golo. After the product introduction from our colleagues and communications, many of them had expressed strong interest in golo, expressed willingness to cooperate with LAUNCH.
During the exhibition, we also had a special presentation on golo hardware, APP, platform, ecosystem and industry solutions which effectively passed on the golo products?? car networking features and development ideas to audiences.
The IoT provides a world of opportunities for everyone from connected cars to connected healthcare to smart cities and even home automation. Except Singapore local enterprises, some well-known technology companies, telecom operators, universities and government agencies who possess professional knowledge on IoT from other countries also participated in this exhibition, which will be absolutely conducive to expand the influence of golo, and help us to develop more accurate potential customers.