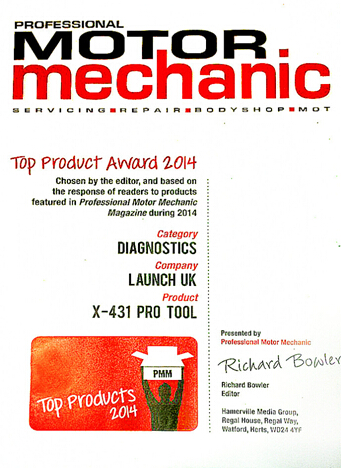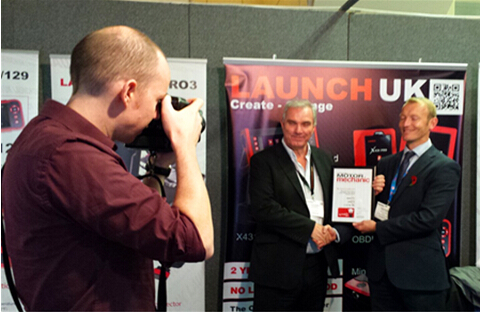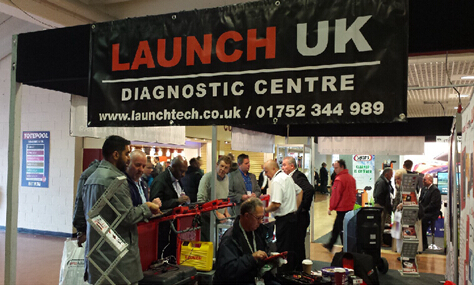 The X-431 Pro diagnostic tool from LaunchUKhas been crowned a 
'Top Product' award winner in Professional Motor Mechanic Magazine's 2014 reader poll
PMM Editor, Richard Bowler said: "Although the diagnostic market is fairly saturated in terms of the volume of products available, the cream generally rises to the top and PMM readers know a top solution when they see it. The X-431 Pro makes use of all of the modern technologies - such as WiFi and multimedia functions - to offer technicians a cracking all-makes tool. Our in-house product tester, Peter Xerri, took it for a test run and his glowing review is testament to the quality of the unit. It is, therefore, a worthy winner of this year's 'Top Product' award."
The X-431 PRO & PRO3 are the most versatile products of their kind in the world and connect vehicles and workshops using both wireless and Bluetooth connectivity. The tools are based on the Android 4.0 operating system and is 'golo' enabled.
The Launch PRO 3 diagnostic tool also features a built-in social network service (SNS) that allows workshops to connect to a virtual community and seek immediate help with challenging diagnoses. Technicians can also access a comprehensive vehicle database and repair tips to improve workshop efficiency.
The PRO 3 tool has various other features. These include: The ability to recognise the diagnostic features of other tools in the X-431 series, reading and clearing DTCs, interpreting and reading a vehicle's entire data stream, and performing actuation tests.
Workshop technicians can use the PRO 3 to diagnose faults on 90% of all European, Asian and American vehicle brands and the 10.1-inch screen on the handy touch-screen tablet has been designed to enhance functionality for the user.
Dave Richards added: "The PRO 3 will revolutionise the way vehicle faults are diagnosed remotely and, with the latest social network technology and support functions built in, the PRO 3 will also improve competence and efficiency in the workshop."