Launch Tech USA Wins MOTOR Magazine's Top 20 Tool
Date:2013-11-07
Number of views:1067
Like times:0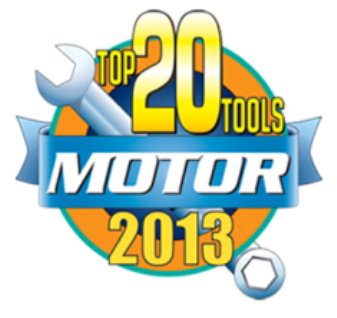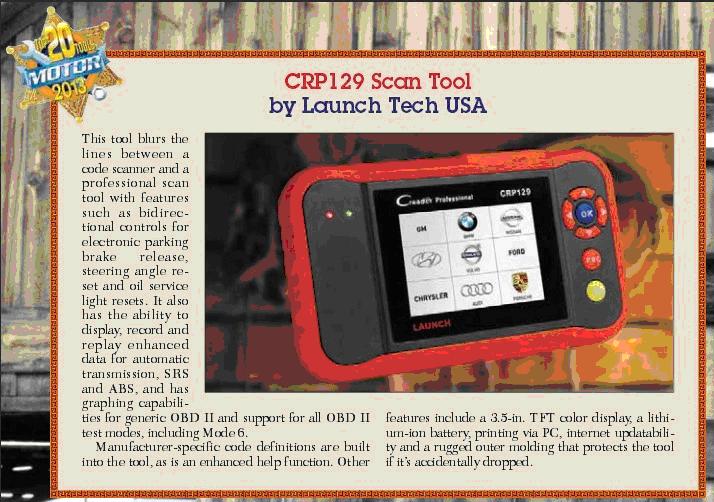 Launch Tech USAis pleased to announce that it has won the prestigious Motor Top 20 Tools Award for its CReader Pro 129. This is the company??s third consecutive year of winning the title, bringing the total to four Motor Top 20 Tools awards for the global leader in diagnostics.
The CReader Pro 129 was recognized by Motor Magazine??s editorial staff for its overall uniqueness and ??Wow?? factor, along with the innovation and effectiveness it brings to todays technician.
"We designed the CRP-129 as a response to technicians needing factory tool level functionality for specific critical tasks, while being extremely affordable,"said Harlan Siegel, VP, Diagnostics, Launch TechUSA.
"What makes the CRP-129 so unique is that it includes a high level feature set such as Steering Angle Sensor (SAS) reset, which is required on many vehicles today as part of a wheel alignment service or related parts replacement". "This capability is typically only found on scan tools costing thousands more," said Siegel.
About the CReader Pro 129 - Code Scanner for Professionals
The CReader Pro 129 contains enhanced manufacturer specific coverage for Domestic, Asian, and European vehicles along with live data for Engine, Transmission, ABS (Anti-lock Brakes) and SRS (Safety Restraint) systems.
In addition, the CReader Pro 129 boasts a powerful critical task feature set including Electronic Parking Brake (EPB) release, required for routine brake jobs on many vehicles today, Steering Angle Sensor (SAS) and Oil Service Light resets.
About Launch Tech USA
LAUNCH TechUSA(http://www.launchtechusa.com), with parent company LAUNCH Tech Co. LTD., are global leaders in the automotive diagnostics aftermarket. Launch manufacturers and distributes industry leading Automotive Diagnostics Products, Undercar and Lift Equipment to the automotive service industry since 1994.
About Top 20 Tools Award
MOTOR Magazine's Top 20 Tools Award recognizes those tools and equipment manufacturer's who, through innovative features on new products, help technicians diagnose and repair vehicles correctly - the first time.
For over 20 years, MOTOR Magazine has reviewed the latest and most innovative tools from global automotive tool designers, manufacturers and suppliers and recognized the top 20 offerings based on originality, application and other select criteria.
Each will be recognized at an event at the 2013 Automotive Aftermarket Products Expo (AAPEX) on Tuesday, November 5 at theSandsExpoCenterinLas Vegas,Nevada.